International Motor Show of Geneva is one of the most waited petrol-related event of the year. Considering car-producting, Geneva is situated on an independent area because Switzerland is not interested in any manufacturers. That is why they like this car-muster and consider it as the most representative exhibition of the world. A few numbers to confirm this fact: sixty-three world-premiers, more than a hundred European and Swiss premiers on the day of press conference, thousands of accredited journalists from all over the world.
Please, mind the gap. The next stop is Geneva. Namely: "Prochain arrét: Geneve."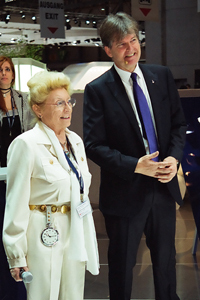 It was a jubilee of the show, all members of car business have been gathering to the grandiose exhibition hall separated to six sections of a town populated with one hundred eighty thousand people for eighty years. And, everybody is here, really. A so-called creme de la creme with presidents, chief executive officers, head designers - dominant individuals of this profession.
A typical example of this is Lilli Bertone who had a press conference with head designer Mike Robinson about their new concept car, called Pandion. That had a great significance since Bertone had turned out crabs and Fiat assimilated the manufacturing facilities in Grugliasco. But soon, Lilli Bertone reorganized the firm, and now breaking new ground with a new name: Stile Bertone. Robinson returned thanks for her acting, in public. It is worth to note that Lilli Bertone delivered her speech in Italian against the expectations, anyway, she is a typical aristocratic Italian women with great aura and sense of style. It is easy to detect.
Above-mentioned presidents and other VIPs, who can be hardly reached by neither the plebs nor the journalists, open up in Geneva and instead of using their press agents, they make a speech in public. Paolo (on the left) and Andrea (on the right) who are the grandchildren of the founder of the famous designer firm Battista Pinin Farina, did the same. It was not moldy to jump into the bizarre named prototype, 2uettottanta, made by Andrea, and being photographed. On the other hand, they performed a scene with fond grace: they could only get out of the concept car without any inner handle with screwing their body until the reach of the outer opener button.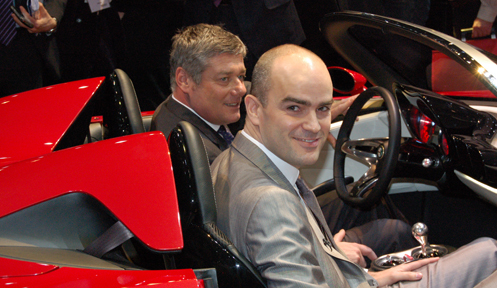 The statement that everybody is here can be illustrated with the fact that on the press conference of Alfa Romeo held by newly commissioned executive officer Harald Wester, chief executive officer of Fiat concern, Luca Cordero di Montezemolo appeared, too. It seems that perhaps they are solicitous about Alfa, or it can be suspected by their courtesy.
There were not just executives around the stand of Alfa. Sergio Cravero chatted with a manager, it is sure that he had many things to say being responsible for future improvements instead of being chief executive officer. Last year, he had stood on the lectern and told that Alfa Romeo was able to create a car like MiTo GTA. Then, the project was left in abeyance.
Considering photography, Motor Show is not an easy task, especially a journalist does his hobby, taking pictures with an analog camera. Carrying straps of a digital and an analog camera were around my neck all the time because of the lack of a not-yet-invented hybrid machine. Lightning conditions are quite strange, cars were lit with spot-lights which were able to distract exposure meters of the cameras, so some artifice or the usage of Photoshop was needed to get similarly lit back- and foregrounds. In case of Alfa, cars were only lit from above with the advantage of having clear contours. And with the disadvantage of taking photos. :) The following picture is a perfect example of this lights-shadows game. Otherwise, only Alfa used this method, snow-white Toyota cars on their snow-white stand were lit with diffused lights of seven thousand Kelvin for the perfect concord.
If I talk about pictures, I should talk about the girls, too. Girls of Geneva are special ones. Every show has special girls but they are more special here. And they are hypersensitive for objectives and flashing lights. Lots of car manufacturer use them as parts of their shows, for example, Pandion of Bertone was inaugurated by a tall sexy-lady with long legs. She unveiled the car with tempting sights and seductive squirm. The girl with red hair on Alfa stand could do the same. An experience like this should be prescripted to every buddy by me.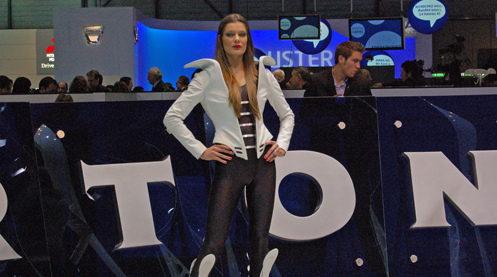 Other members of the concern (Fiat, Lancia, Maserati, Ferrari, Abarth) were also present in Geneva. Lancia has to be mentioned here, that has shared a stand with Chrysler for the first time. Insignias of the two brands were displayed under each other on the pillars, and puzzles provided design motives. Pieces of puzzles formed the floors thus the fusion of the brands were visually confirmed. Press conference was based on this idea, too, it was emphasized that in the face of different historical backgrounds, these two brands can be easily jointed.
As for me, Geneva is similar to AlfaCity. I look forward, it slowly comes, it arrives, it goes away. I feel it like a moment. Even if I start working at eight o'clock and finish after midnight. And I'm looking forward to take off to the next one. I hope, Alfa Romeo will last until that, and I could report the world-premier of descendant of 159.
Translated by: Ferenc Pozsonyi