More, than 550 cars and over 2 thousand people gathered in AlfaCity at the last weekend in front of the Basilica in Esztergom, Hungary to join in Central-Europe's biggest Alfa Romeo event, where the MiTo was shown up as an ice sculpture. AlfaCity became international; this was certified by the biggest amount of foreigner participants: 15 cars came from Poland, but German, Dutch, Croatian and Romanian Alfa owners were visited AlfaCity too.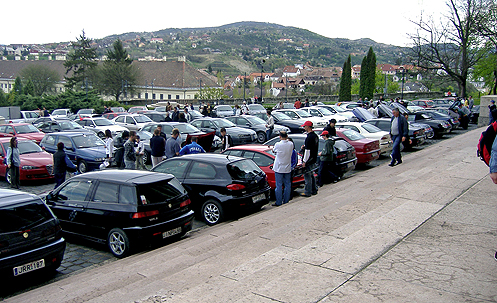 Alfa Romeo's brand new compact sportcar, the MiTo was one of the absolutely stars of AlfaCity, whereof we said, that you will able to touch it and see it in 3D. With the help of an ice-sculptor, who cut out the MiTo within the confines of a show with a chainsaw, we introduced Alfa's novelty. So the participants of AlfaCity were allowed to see the car before its international premiere in June, however not in a 1:1 scale.
This year's event was the festival of the 33's also, because Alfa's model celebrated its 25th anniversary. Hence the 33 owners get extra Alfa33 decals, key-holders, the participant's could vote for them apart from the other Alfas, and the racers of "AlfaCity grand prix" online game were raced with a 33 P4.
As a respect for the oldtimers we arranged an oldtimer-youngtimer exhibition, where lot's of GTV6s, Alfettas, Sprints and a 2600 Sprint was exhibited.
The most gruesome show was made by the "artists" of the mountain bike freestyle show, and the most beautiful moment of the event was, then one of our members engaged his girlfriend in front of the Basilica, and hundreds of participants.
Our blood giving action (spread the Alfa virus, give blood!) was successful too, more than 40 people gave blood, we're thankful for that!