A real community for real Alfisti
The 2004 developed Alfa Amore website is the online community of Alfa owners, where the mainstream is about motorism. It's a worthy website for a legendary brand, where the owners and fanatics come to know each other – without frontiers. Our goal is to put all the Alfisti in the world in touch with everybody, so they can communicate, share experiences, or meet with each other. We patronize it with lots of web2 services.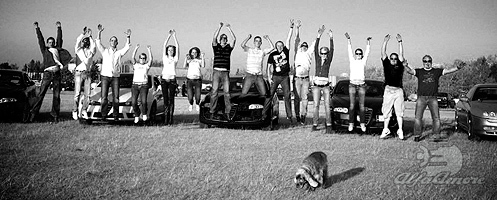 Reveal yourself and your car!
With the help of your personal data page, you can introduce yourself, so you won't make acquaintance with a faceless person. You can introduce your car likewise with photos, and articles. Write a blog from your car's life to save all the memories. It will be useful information for the others. Moreover, you can calendar your expenses too.
Discourse!
What are the members without communication good for?! Use the forums for getting to know the others, for getting help, for giving advice or just for chatting. You can also personalize your e-mail address too, if you want, you can have a @alfaamore.com address.
Buy - Sell
You can find here all the gadgets, spare parts, cars or whatever you want, or if you have things to sell, you can advertise it.
Get informed!
Alfa Amore isn't simply just a communal website; it's an information centre too. You can find here everything about the Alfa models, recent news, road tests, or reports. Moreover, you can write articles too! For this, contact us.
What are you waiting for?
If you're an Alfa owner, don't hesitate! Register and become men of merit of our community! And don't forget to approach your friends on registration.